Cocoriko, beyond a survey
This article describes the difference between a survey and an online consultation platform.
---
An online consultation platform offers you a virtual room reproducing the experience of an open door consultation
A survey is a one-way form of participation: respondents provide you with information that you report back to them when the survey is complete. An online consultation platform provides a dedicated, respectful and secure space for people to express themselves on a topic and issues.
Transparency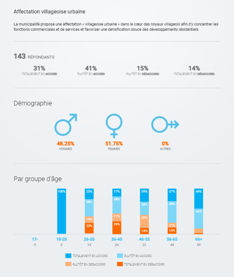 Participation on the Cocoriko online consultation platform is transparent since votes and comments are visible to all participants. Each proposal even contains participation statistics allowing you to imagine yourself in a real consultation room, in person.

The survey does not allow to see the participation in real time. In addition, the results are compiled and analyzed before being sent to the community. The community may feel that they are not well represented in the consultation report.

On the Cocoriko platform, the exchanges are visible and the consultation report should be representative of what was said.
Always personalized and optionnal

While a survey accompanies respondents on a well-defined path, such as in a consulting room at an open house, participants on a Cocoriko platform choose their path. No action is required, except to create an account to participate.

Participants can take several different actions, depending on their interest and level of enthusiasm to participate:


Express their level of agreement and feelings quickly about a proposal
Take the time to provide feedback on a proposal
Write a new proposal for the community to evaluate and comment on
Respond to questions posed by the platform administrator
We respect the community's desire to be involved at different levels depending on the consultation topic.

An online consultation platform is for you if...
You are willing to share with your community in a transparent way
You have the support of your organization to think differently and creatively about online participation
You are ready to deploy a communication plan that will raise awareness of this new, innovative and accessible means of participation
Positive spins-off

Over the years, the Cocoriko team has observed several positive spin-offs in organizations that have used our platform, including


A higher participation rate: on average 5 to 10 times higher than a face-to-face consultation
A sense of trust from the community that the organization is willing to be transparent
Consultation reports without surprises, well received by the decision-making bodies and by the community